Al Wynne

January 3, 1922 - November 23, 2009

Born Albert Givens Wynne on January 3, 1922 in Colorado Springs, Colorado, Al Wynne's work has been featured in major exhibitions from Colorado to Washington D.C., south to Texas and north to Alaska. His work has been presented in both individual and group shows. Al was listed in Who's Who in American Art starting in 1959. 

Among Wynne's major Colorado exhibitions are the following: Denver Art Museum (1962); Colorado Springs Fine Arts Center (one-man show); Boulder Museum of Contemporary Art (1999); Museum of Contemporary Art/ Denver "5 Abstract" (2002); Kirkland Museum of Fine and Decorative Art (October 2008); Fort Collins Museum of Contemporary Art (May 2009). 

Exhibitions of Al's sculpture and painting are held regularly at 
Z Art Dept
 in downtown Denver. The current one-man show features calligraphic forms from the late 1990s and early 2000s.  
Online media is available by clicking on the links below: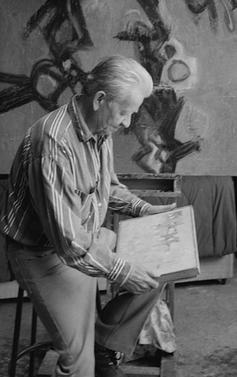 Lou Wynne

Wilma Louise Doughty, Lou, was born on September 13, 1930, Lou's ceramics have been included in major exhibitions across the United States, and she continues to work from her home and studio in Colorado.    

UNDER CONSTRUCTION - Contact us for more information.